About Us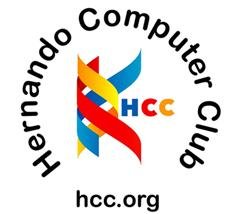 HCC is an all-volunteer, Non-Profit organization of about 275 members.
We are located in the West Entrance of the Senior Citizen Club of Hernando County, 7925 Rhanbuoy Road, Spring Hill, Florida, 34606.
Our Goal: To share and teach computing information, skills and techniques in a congenial atmosphere. We also provide several social activities and volunteer in the community.
An ongoing project of pride for our club is refurbishing donated used computers from  members and outsiders and then presenting them to local schools and other organizations in need. 
We hold our General Membership meeting, open to the public, on the third Monday of most months at 7PM, with a social hour beforehand including light fare. We feature guest speakers, a Tech Tip of the Month, door prizes and a 50/50, along with any announcements of upcoming activities.
Membership is $30 per year or $50 for 2 years.

 

Classes, lectures and workshops are $3.

 

Software Clinic is $5 for an hour of one-on-one help with your device.

 

The Hardware Clinic is on Saturday mornings, by appointment only.
Our board of directors meets once a month, and all members are invited to sit in. The board consists of the following officers: President, Vice President, Treasurer, Secretary. We have directors of the following departments: Membership, Education, Facilities, Program, Communications, Webmaster, Social Activities and three Directors at Large.
Our membership consists of all levels, including those who know very little about using their computers or phone devices.  They join to learn the skills they lack, from the simple to the complex. Some contribute their time volunteering in many ways; assisting Instructors, greeting at events and helping with social events.
Other members join to share their knowledge as instructors in well-organized classes.  We would be pleased to welcome you as a new member.  You will find new friends and perhaps some people you may already know.  
So, if you want to learn to become more comfortable with your device(s) or have skills in certain areas you'd like share (or both). Click here to join today.
Even if you don't join at this time, please tell a friend or two about the Hernando Computer Club at hcc.org. See our always growing list of subjects offered. You might be surprised!
Our phone number is 352-684-7171 and you may also contact us here.